Intact America is people helping people. We are individuals who know each other well and have worked together for years to change our society. What we've learned from ourselves and our thousands of supporters is that no one gets involved in this issue for purely intellectual reasons. They get involved for personal and emotional reasons. Perhaps they were a victim or are now a survivor, or they are a friend or family member of one, or that they now regret their participation in this heinous act. Regardless of our histories, all of us here at Intact America are dedicated to stopping male child genital cutting.
Georganne Chapin, MPhil, JD
Executive Director, Chairperson
Georganne has fought for humane, cost-effective, high-quality health care for more than three decades—as chief executive officer of a nonprofit Medicaid health plan, and now as head of the nonprofit Hudson Center for Health Equity and Quality and Intact America. An intuitive intactivist since her childhood, Georganne became involved in the movement after studying bioethics and human rights law in a night program at Pace University Law School, and meeting (among other activists) Marilyn Milos, Steven Svoboda, John Geisheker, and Dan Bollinger at a Washington, DC gathering in 2003. Georganne lives near Woodstock in New York's Hudson Valley with her life partner Pablo Weinschenk, cats Petey and Tatou, and a black dog named Tulip. Weekends, she runs the art gallery and giftshop next to Pablo's glassblowing studio.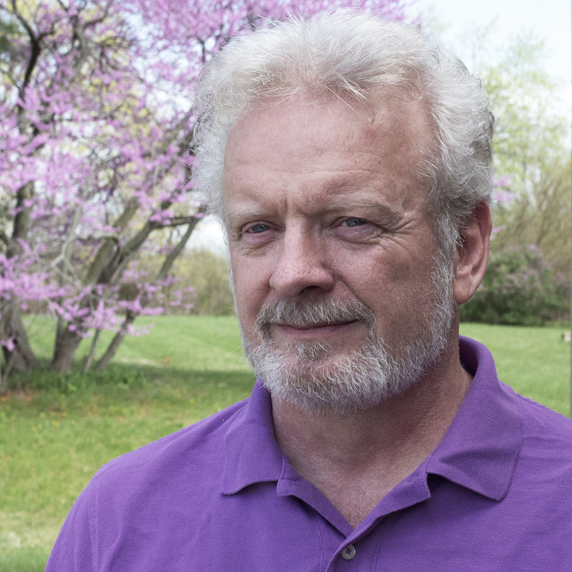 Dan Bollinger, BA
Vice Chairperson
Dan cut his teeth on social-change issues while in college by working on the Equal Rights Amendment. Later, he was a workshop facilitator in the men's mythopoetic movement helping men deal with unresolved masculine issues but then decided to get involved with the men's issue he could personally relate to—circumcision. He was cut three days after his birth. It wasn't until decades later that he realized the psychological and sexual tolls the trauma had on him. He has been active in the intactivist movement for the past twenty-five years. Dan is an industrial designer and he and his wife own and operate a small manufacturing company she started in Indiana. Their home is "On the Banks of the Wabash, Far Away." When he isn't homeroasting coffee you can find him building something awesome in his shop, or outside biking or kayaking.
Marilyn Milos, RN
Board Member
Marilyn is the founder and director of Genital Autonomy–America (formerly NOCIRC). Marilyn started campaigning against circumcision in 1979 when, as a student nurse, she witnessed the pain, trauma, and suffering of a baby being circumcised. She is a powerful worldwide voice for protecting all children—male, female and intersex—from genital modification. Marilyn is an expert on the penis, its role in sexual function and pleasure, and the harm inflicted by circumcision. Every day, Marilyn tirelessly fields questions from worried, expectant parents, and people seeking advice and reassurance. Marilyn lives in a cabin on a steep hillside north of San Francisco, where—in her spare time—she practices Tai Chi, plays pickle ball, and tends to her chickens for eggs and to her spectacular potted plants.
Chris Mauer, JD
Board Member
Chris graduated from the University of Wisconsin-Madison in 1977 with a B.S. in Economics, with distinction. He received his law degree from the University of Wisconsin-Madison in 1981 and attended the University of Colorado School of Business. Chris has practiced law, and offers tax and business planning for closely-held businesses and their owners. His work in this area included estate planning, business organizations, employee benefit plans, non-qualified deferred compensation plans, probate, and business transfer. Chris was a trumpet player and a rank leader in the University of Wisconsin Marching Band and has qualified to be a member of Mensa. He has two children, attends St. Michael Catholic Church, and has been involved with many community organizations, including youth sports.
Kevin Nelson, MPH
Board Member
Kevin Nelson is the Chief Executive Officer of Aetna Better Health of New York (ABHNY), a CVS Health plan. He has extensive experience in management, policy and business development for health care and humanitarian organizations serving underserved populations. Kevin's entrée into healthcare began with community health centers and public hospitals more than 25 years ago. Prior to joining ABHNY, Kevin was V.P. for Corporate Partnerships for the U.S. Fund for UNICEF. Kevin also served as Executive V.P. and Chief Operating Officer for Hudson Health Plan. Kevin earned an MPH in Health Policy and Management from Yale University and an B.A. in Healthcare Administration from the University of Pittsburgh. Kevin is an avid music lover and enjoys all activities centered on health and fitness.
Stephen Patterson, BS
Deputy Director / Director of Philanthropy
Stephen originally came to Intact America as a summer intern in 2009 where he attended the 11th International Symposium on Genital Integrity, which took place in Berkeley, California. He received his Bachelor's degree in Journalism from Rochester Institute of Technology where, while a student, he organized a symposium about circumcision for the AALANA Collegiate Association (ACA), and invited Georganne Chapin as a guest speaker. Stephen returned to Intact America in 2015. He works largely behind the scenes overseeing the organization's social media, communications, website, and constituent outreach.
Howard Birnbaum, BS
Chief Financial Officer
Howard Birnbaum received a bachelor's degree in business administration from Baruch College in 1968. After working in public accounting for three years, he began a career in healthcare that started at the Central Office of the New York City Health and Hospitals Corporation where he was responsible for developing and monitoring the revenue and expenditure budgets of the eighteen member hospitals. He then moved to Elmhurst Hospital Center in Queens, where – as chief financial officer, he oversaw the finances of that facility, as well as – later – the Queens Health Network. In 1998, Howard came to Hudson Health Plan, a Medicaid managed care plan, where he served as Chief Financial Officer until the company was acquired in 2014. Since 2016, Howard has served as Chief Financial Officer at the Hudson Center and Intact America.
Patrick Montanaro, BS
Manager of Communications & Marketing
Although professional untangler isn't a particularly legitimate job title, it does describe the nuance of what I do at Intact America. Every organization is made up of communication lines. You can imagine them like the long strands of Christmas lights that get boxed up and bunched every year. A great organization has clear communication paths, but sometimes those paths get all looped and knotted. My job is to do my professional untangling and make sure the red bulb isn't cracked, or the wires aren't tied together, or the plug isn't overheating. To really bring this Christmas lights metaphor full circle, I essentially want to make all parts of Intact America shine.
But first – the untangling. I will also be handling most of the social media, the newsletter, and a few special projects. If you happen to be at some of the events that Intact America has a presence at, I will probably be there too. If you see me, come and say hi! Tell me about yourself. We can discuss the greatest American folk singer (spoiler: it's Jim Croce) and share sauce-making secrets. It's a great pleasure to be at Intact America!
Kelly Floyd, BS
Manager of Community Programs
Kelly Floyd began working with Intact America in 2022 after speaking at the 16th International Symposium in Atlanta, GA. where she presented her essay "Scarring Innocence." Kelly encouraged intactivists to assert their objective moral authority as the primary justification for their ethical stance on the genital cutting of infants, rather than the deconstruction of pseudoscientific and religious myth. She received her Bachelor's in Journalism from Georgia State University in 2021 and completed a marketing internship with FAIR, The Foundation Against Intolerance and Racism, in the summer of 2022.
She contributed to setting the foundation for FAIR's organizational club presence on college campuses across the country and the distribution of FAIRstory curriculum to schools. As Community Programs Manager, Kelly works to nurture the relationships between intactivists and the general population, as well as build up Intact America's supporter base through strategic campaign initiatives, institutional accountability driven programs, and donor outreach. Her goal is to unite people of varying beliefs, cultures, and identities to work together and abolish child genital cutting, which she believes has detrimental consequences for the entire human collective.
Shelton Walden, BA
Videographer, photographer
In April 1994, Shelton Walden was a radio host and producer at Pacifica Radio in New York when a friend recommended that he tackle the topic of circumcision on his program. One year later, Shelton interviewed Marilyn Milos, then the President of the National Organization of Circumcision Information Resource Centers, live on the air. From that point on, Shelton has delved deeply into this subject, attended conferences, and has himself been interviewed on numerous television and radio shows. Fighting for the rights of boys to be free from genital cutting has become his life's work. Shelton is a native of New York City. He attended Fordham University, and received a a BA in political science in 1984. For 25 years, he was the host of Walden's Pond, a weekly public affairs radio program broadcast from WBAI, the New York Pacifica Affiliate. In addition to broadcasting on radio, Shelton is a videographer who operates Walden's Pond Media. Shelton serves as a consultant to Intact America, focusing on social media and the Intact America You Tube account.
Adam Zeldis, BS
IT advisor