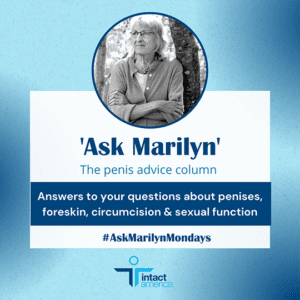 Dear Marilyn:
My wife says I bruise her cervix when we have sex. She says it is not because my penis is long, but that I thrust too hard. She blames it on me being circumcised. I'm her second husband and her first was not circumcised. What's that all about?
—Dumbfounded in Fort Wayne
Dear Dumbfounded,
She may be correct. When the nerve-laden foreskin is removed from the penis the result is a desensitized penis expecting and clamoring for more sensory input. To accomplish some sort of sexual satisfaction, a cut man will tend to thrust faster, harder, deeper in order to achieve climax.
Painful sex is the number one complaint of American women and I think this is because four out of five men are cut. Frictional pain is the most common reason for painful sex, and generous lubrication often alleviates this. But the second most common reason I've heard is from bruised cervixes. It really does hurt. A lot.
You see, an intact man tends to move slower and doesn't have to go as deep into the vagina. The result is pleasurable sex for him and her.
You have a number of solutions available to you. 1. Just go slower and enjoy the ride. The goal isn't always to orgasm, but to connect with your lover. 2. Try positions that tend to limit your penetration. The so-called 'doggy style' for one. The 'cowgirl' is also effective since she is in control of the depth. 3. Finally, there is a product call the Ohnut which was designed by women to cure this problem. It fits over the penis and limits the depth. It is flexible, cushy, and comfortable. And kinda kinky in a fun sort of way. Think of it as a bumper or shock absorber.
—Marilyn