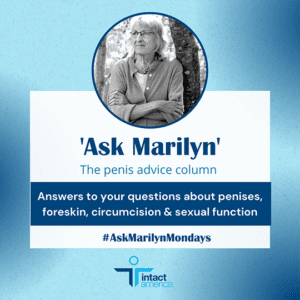 Dear Marilyn:
I was circumcised without my consent as a baby and I wish I could experience sex as an intact man would. I've heard about foreskin restoration, but I know it can't restore the sensitivity of the natural foreskin on a normal penis. Is there any benefit to be gained by trying to restore my foreskin?
—Confused in Seattle
Dear Confused:
I am sorry that your foreskin was taken from you. You can regain some sensitivity with foreskin restoration (gentle stretching techniques) to cover the glans, making it more sensitive and providing the gliding mechanism that will improve sex for you and your partner. Although foreskin restoration is a tedious, time-consuming endeavor that takes several years to complete, every man who has succeeded has been pleased with the results.
Do an internet search for 'foreskin restoration' to learn more about it, find support groups, and see the current devices that have been developed. Good luck!
—Marilyn