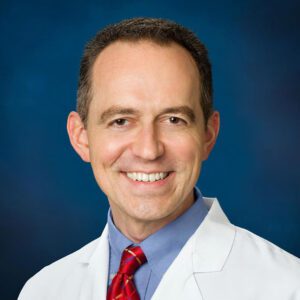 AUGUST 2015: August's Intactivist of the Month is Dr. John Trainer, physician and father of five. As a resident in Family Medicine, Dr. John Trainer was taught to perform routine infant circumcision — "one of literally dozens of procedures that residents learn," he says. "Residents endure the pressures of stress and fatigue rendering some too tired to stop and ask questions like, Why are we learning and doing these things?"
When Dr. Trainer completed his residency and began practice in Jacksonville, Florida, he didn't give the matter of circumcision any thought.
His first encounter with an anti-circumcision ideology was in 2012, when he discovered a post by Jennifer Andersen in her blog, Our Muddy Boots, in which she writes: "There is a sentence that many who describe circumcision use, "The more you know (about circumcision), the more you're against it."
Dr. Trainer believed that he knew a lot about circumcision, and he was not against it. But he made an agreement with himself to keep an open mind about the procedure.
In 2014, the Florida case (Hironimus v. Nebus) of estranged parents fighting over a shared custody document ended in a court order to circumcise a 4-year-old. This jarred Dr. Trainer who, as a father, thought "This is a huge procedure to perform on a child who is old enough to remember it."
Around the same time, the CDC released its draft document validating circumcision for teens and adult men as a means of reducing HIV transmission. Dr. Trainer looked at the CDC's own source data, and was shocked to see such an influential organization recommend a surgical procedure that provides less protection than a simple condom.
It was then, he says, that the "scales fell from my eyes." Circumcision now seemed absurd. Dr. Trainer's professional presence on social media quickly evolved to reflect his new understanding. And his contacts within the intactivist community started to grow.
In early summer 2015, a surgeon in South Florida proposed to circumcise the Hironimus boy. As the intactivist community flooded DiMaggio hospital with protests, Dr. Trainer made a brief post on Facebook, observing that to proceed with this procedure, on this child, would represent a serious breach of medical ethics. Dr. Trainer publicly committed to report such actions to the Florida state board of medicine.
Happily, the surgeon and his hospital stepped back from their plans. But along the way, Dr. Trainer's voice caught the attention of a newspaper editor from Fort Lauderdale. His interview with the paper garnered tremendous attention on social media. And it caught the eye of Georganne Chapin, Executive Director of Intact America.
Speaking about Trainer, Chapin says: "Unfortunately, most physicians are loathe to speak out against the practice of circumcising babies and children — even though they know it is not necessary and that it can cause harm. Dr. John Trainer is a rarity, and we salute him for his willingness to not only change his own opinion, but to openly call out his colleagues who continue to cut the genitals of helpless children."
"I have learned so much in a short time," says Dr. Trainer. "There is a very important role for grassroots activism — face to face, friend to friend, our message will spread. That is the place for emotion and anecdote. But there is also a need for an organized source of factual information, presented with gravitas. IA provides that source. I am so grateful for every person who stands up for genital integrity. But I am also grateful for the corporate presence that lends another dimension to our fight."