SEPTEMBER 2014: We've known for years that Alan Cumming, Penn Jilette, and Howard Stern are vehemently anti-circumcision. But did you know that many other Hollywood celebrities have come forward and spoken out in support of boys' rights? Here's what they had to say:
JOHN LEGUIZAMO—[My wife and I] talked about it, and I said there's no way they're going to be circumcised, and she was totally cool with it. It's a beautiful thing. It's not medically necessary at all. Actually, from what I've read, guys lose feeling by doing that. I want my son to have all the feeling he can have. Growing up in New York City, a lot of my friends weren't circumcised, and my dad's not circumcised and none of my family members are circumcised, so to me that was normal. When I saw some white kids circumcised, it looked like a mutilated monster. It was weird to me…it was really bizarre. (Playboy interview)
BEN AFFLECK—In an interview with Jon Stewart on The Daily Show in 2006, he said, "I hate circumcisions! Get enough in me, and I'll tell you how much I hate them!" (Watch video)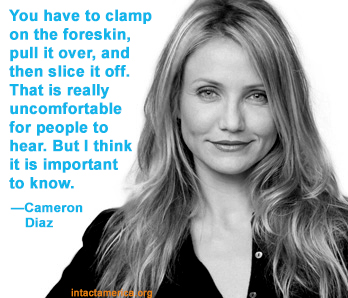 CAMERON DIAZ—Surprised when a scene with circumcision-related dialogue was cut from her film What to Expect When You're Expecting. She said, "You have to clamp on the foreskin, pull it over, and then slice it off. That is apparently really uncomfortable for people to hear. But I think it is important to know." (Watch video)
CRAIG FERGUSON—While interviewing Dr. Lisa Masterson on his talk show, Ferguson questioned her advocacy of the practice. "Couldn't you achieve the same effect by washing your pee-pee on a regular basis? So… you can have this chopped off, or you can wash it, your call. That's a tough choice there! " (Watch video)
ROSEANNE BARR—In March 2012, Barr, who is Jewish, tweeted "Jews must cease circumcising their male infants! It is a barbaric & backward cult mind control technique that produces ill effects in adults."
GERARD BUTLER—When asked by Howard Stern whether or not he's circumcised, the Scottish actor said, "No, we don't do that!" He said he's "very sensitive" and says that being intact is "an amazing thing." (Watch video)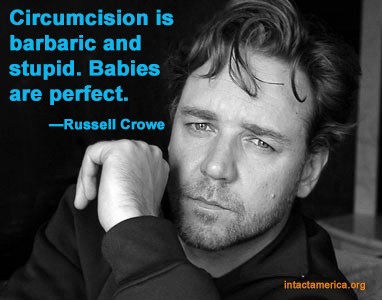 RUSSELL CROWE—A frenzy of Twitter posts in 2011 revealed that this New Zealand native and father of two boys is adamantly against circumcision. "Circumcision is barbaric and stupid. Who are you to correct nature? Is it real that GOD requires a donation of foreskin? Babies are perfect."
MARIO LOPEZ—In a 2010 episode of Saved by the Baby, Mario Lopez insisted that if his child was a boy the baby would not be circumcised. "That's not up for discussion," he said to then-girlfriend and now-wife Courtney Mazza. "News flash, this is the way all men are born." In a 2010 interview with Wendy Williams, he said, "If we're having a boy, I don't want him to be circumcised, because I don't think God makes mistakes, and it's not an optional part." In 2011, he discussed the issue with fellow intactivist Howard Stern.
DUSTIN HOFFMAN—In 2004, when talking about the debate raging around the possible circumcision of his grandson, Hoffman said, "Sometimes they say someone shouldn't be circumcised because it's more natural and they should be circumcised because of hygiene. But the argument against that is if you wanna clean under your nails, you don't cut your nails off."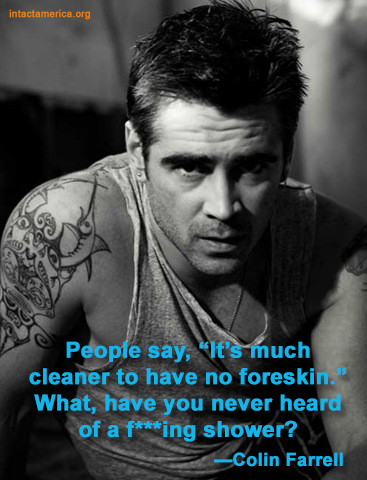 COLIN FARRELL—"People say, 'It's much cleaner to have no foreskin.' What, have you never heard of a f***ing shower?" (Playboy interview)
ALICIA SILVERSTONE—In her recent book The Kind Mama, Alicia Silverstone explains how she came to her personal decision not to circumcise her son, despite being raised Jewish. "My thinking was: If little boys were supposed to have their penises 'fixed,' did that mean we were saying that God made the body imperfect? He made all this incredible stuff, and then he just happened to make the penis wrong? (read more)
[sc name="IOTM"]