AUGUST 2014: It is with great sadness that we learned of the passing of Dr. Paul Fleiss last month. An American pediatrician who broke with tradition early on to promote breastfeeding and encourage parents to keep their boys intact, Dr. Fleiss represented what we would love to see in all pediatricians – a willingness to look beyond tradition and stand up for what's right for our children.
Based in Los Angeles, Dr. Fleiss was described by the Los Angeles Times as "everyone's favorite baby doctor," having been one of Southern California's most sought after physicians for thirty years. He helped to deliver the children of celebrities such as Madonna – and yet he made house calls, too, taking on patients who were unable to pay him. To intactivists around the world, Dr. Fleiss is most famous for his public and powerful stance against infant circumcision.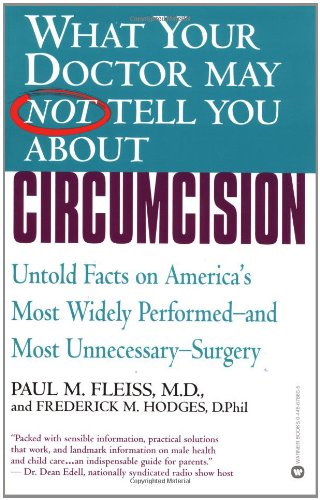 If you haven't read What Your Doctor May Not Tell You About Circumcision: Untold Facts on America's Most Widely Performed – and Most Unnecessary – Surgery, which he published with Frederick Hodges in 2002, buy or download it now. It's an indispensable guide for parents on the fence about circumcision, as well as for intactivists looking for more "ammunition" in the fight to educate the public.
"Packed with sensible information, practical solutions that work, and landmark information on male health and child care," says radio host and pediatrician Dr. Dean Edell, "this is an indispensible guide for parents." Dan Bollinger, Executive Director of the International Coalition for Genital Integrity, agrees: "This book presents the truth about non-therapeutic circumcision in a straight forward and easy to read fashion. Whether you are a parent questioning circumcision, a survivor wanting to know more about your body, or a human rights activist needing a solid background of information, I highly recommend this book."
Well before the publication of his book, Dr. Fleiss was speaking out against circumcision. In 1997, Mothering Magazine published "The Case Against Circumcision," in which Dr. Fleiss explained the function and importance of the foreskin, how to care for it, and the permanent damage caused by circumcision. "The natural penis requires no special care A child's foreskin, like his eyelids, is self-cleansing. Forcibly retracting a baby's foreskin can lead to irritation and infection. The best way to care for a child's intact penis is to leave it alone."
"Paul was a staunch supporter of children's rights and was willing to stand up for infants and children in the face of tremendous opposition," said Marilyn Milos, founder of National Organization of Circumcision Information Resource Centers. "He never waivered, compromised his stance, or gave up. His gentle voice, his kindness, and his determination will ensure he is remembered as a protector of the rights of children."
"By exposing the medical myths about circumcision, Dr. Paul Fleiss has given countless American parents the facts they need to refuse this harmful surgery for their sons," said Georganne Chapin, Executive Director of Intact America. "He has passed on, but his words of wisdom will save boys for years to come."