Georganne Chapin, MPhil, JD
Increasingly, new parents are questioning the peculiarly American practice of "routine" infant circumcision. They're heeding their own instincts, doing their research, and choosing to protect their sons' bodies and right to keep the genitals nature gave them.
Unfortunately, many of these parents and their sons now face a new worry – an iatrogenic[1] epidemic of forced foreskin retraction, the result of ignorance and bias among U.S. healthcare professionals.
A new lawsuit shines a bright light on this insidious practice. On January 10, 2018, Atlanta attorney David Llewellyn filed a Complaint against a major pediatric hospital in that city, describing its disregard for current pediatric care guidelines, and its nursing staff's systematic violation of patient rights.
Alleging battery; nursing malpractice; intentional infliction of emotional distress; willful, wanton and reckless misconduct; and negligent failure to protect the patient, Park v. Children's Healthcare of Atlanta catalogs the actions by a nurse who – without conversation or warning – ripped away the foreskin of an intact 2-month old baby named Jude Parks, causing him severe pain, bleeding and emotional anguish. The Complaint also describes the defiant attitude taken by the nursing supervisor and other hospital staff, who insisted – contrary to fact – that the hospital's protocol calling for the forced retraction of all intact boys' foreskins was derived from current established medical recommendations.
Some Background
Starting in the late 1800s, Victorian-era doctors began promoting foreskin-removal  as a way to make boys stop pleasuring themselves. (It didn't work) By the mid-20th century, routine medical (i.e., non-religious) amputation of baby boys' foreskins had become a peculiarly American phenomenon – fueled, no doubt, by the fact that health insurers paid for it. Today, an estimated 80 million adult American men are missing a palm-sized area from their penises. Even with increased parental awareness – still, over half of all baby boys born in the U.S. are victims of a medical system that makes money from the procedure. But with the voices of aggrieved men becoming louder, and parents questioning the bogus medical claims that there's something inherently unhealthy about the natural penis, circumcision rates continue to fall.
Most Americans, though, remain surprisingly unfamiliar with the intact penis. Parents who choose to keep their sons intact get little or – worse – the wrong information about how to care for their sons' genitals. They don't know that a tight or adherent foreskin (called physiologic phimosis) is normal in babies and boys, and that over time, the foreskin will loosen and separate naturally from the head of the penis. They don't know that the average age of spontaneous foreskin retraction is actually around ten years of age, and that nobody should but the boy himself should try to hasten this process along.
Though ignorance and misinformation are widespread, the pediatric literature itself (including guidelines from the American Academy of Pediatrics) actually is clear: a baby's foreskin should NEVER be forcibly retracted. Using force to pull back a boy's foreskin is painful, and can cause swelling, bleeding and infection.
What Happened to Baby Jude?
According to the above-mentioned lawsuit, Jude Parks was referred by his primary doctor to Children's Healthcare "because he had been vomiting often and the vomit was of a disturbing color." He was accompanied by his mother Ms. Parks and his maternal grandmother. The Children's Healthcare physician who examined Jude ordered tests for blood and urine. Nurse Sorrells (a named Defendant in the lawsuit) "took off Jude's diaper, apparently to obtain a urine specimen, and, without comment and without asking permission to do so, forcibly tore and retracted his foreskin all the way back off of his glans, to which it was naturally attached… caus[ing] the end of Jude's penis to become bloody. Jude started screaming. Neither his mother nor [his grandmother] had ever hear him scream like that before. Neither has heard him scream that way since."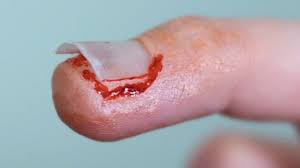 When Jude's mother told Defendant Sorrells that no one is supposed to retract and tear an intact boy's foreskin, the nurse insisted that what she'd done was proper, and that Ms. Parks herself should be retracting Jude's foreskin at every diaper change. A nursing supervisor subsequently appeared and told Ms. Parks it was hospital protocol to retract intact boys' foreskins – that they did so in every case. She also said that Jude not being circumcised "leaves him open for infection."
For weeks after the incident, the Complaint states, Jude manifested pain, and anxiety whenever his diaper was changed. The Complaint further alleges that Jude's foreskin is scarred, and he may need surgery later on in order to be able to retract it.
The Complaint provides exhaustive evidence that the actions performed upon Jude, and the hospital protocol supporting those actions, violate current medical standards and guidelines, including those from the American Academy of Pediatrics. It further alleges that Children's Healthcare was aware or should have been aware of these standards and guidelines. Finally, it provides a reference to a contemporary article by Adrienne Carmack, MD and Marilyln Milos, RN confirming that it is not necessary to retract a boy's attached foreskin to insert a catheter.
While it's too late to protect Baby Jude from this harm, it is possible to protect the thousands of intact boys like him.
If you are the parent of an intact boy:
Do not allow a doctor, nurse or anybody else to forcibly retract your son's foreskin. Make a point of telling your pediatrician this up-front, and providing this information in his medical chart. If you do take your intact boy to an emergency room, let the provider(s) know that foreskin retraction is off-limits.
If your baby has been subjected to forced retraction:
The soreness and swelling will likely resolve on its own. Watchful waiting, and bathing him in plain warm water (no soap or bubble baths), are the best recourse for healing. If he does not improve, or if there is pus or smelly discharge, seek medical help – preferably from a foreskin-knowledgeable physician. Let the new doctor know that you will not tolerate further tampering with your son's foreskin.
You are entitled (and we encourage you) to complain in writing to the doctor who performed the retraction and the facility where this battery took place. At a minimum, you should provide them with factual information, such as the Carmack and Milos article referenced aboveand this information sheet. You may also file a complaint with your state's medical board or office of professional discipline. Finally, you may wish to explore filing a lawsuit. Should you choose to do so, Intact America can help you or your attorney with the pertinent resources. Contact us at

[email protected]

or write to me directly at

[email protected]

.
Over time, as the ranks of intact American men increase, medical professionals will learn the facts and foreskin bias will subside. Until that time, it's not simply enough to keep your son intact. Ongoing education and vigilance will remain necessary until Americans realize that nature put the foreskin there for a reason – and that it's something we should value, rather than fear.
[1] I.e., caused by the medical system. Iatrogenesis refers to any effect on a person, resulting from any activity of a person or persons acting as healthcare professionals or promoting products or services as beneficial to health that does not support a goal of the person affected.