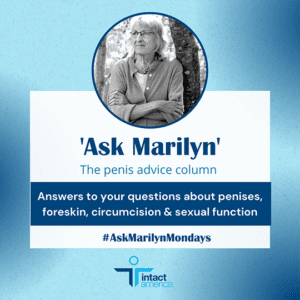 Dear Marilyn:
This may fall into the category of TMI, but we are a sex-positive household, and no topic is taboo. My 14-year-old son is going through puberty and is worried that his foreskin pulls back only about half-way. He told me that it sometimes hurts if he "goes too fast" when he masturbates. Is this something we should be concerned about? Is it time to visit a urologist?
—Sonia, Grand Rapids, MI
 Dear Sonia:
I am happy that you and your son can talk candidly about sex. You can explain to him that, just as you cautioned him not to forcibly retract his foreskin, he needs to be careful with his foreskin when he masturbates. Here's why: One or two millimeters under the penile skin is a smooth muscle sheath called the dartos fascia. The dartos fascia covers the shaft of the penis and extends to the tip. The dartos fascia muscle fibers near the tip of the foreskin form a sphincter-like structure—or a ring—that acts like a one-way valve and shields the urinary opening.
The muscle fibers of the ring will become elastic over time as your son's foreskin loosens with the hormones of puberty and eventually fully retracts. Until then, tell your son to masturbate gently to slowly widen the opening. If he masturbates too vigorously, he can force the head of the penis through the opening and tear the ring, causing bleeding as well as pain. Gentleness is always important when the genitals are involved.
—Marilyn