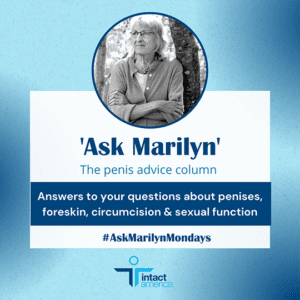 Dear Marilyn:
Everything about my son's birth was great. Except for one thing that keeps bugging me. Even though we knew early on that we'd keep him intact, people kept asking us if we wanted to circumcise him. I told my OB/GYN we didn't want to, but on the next visit she asked. In the hospital, just about every nurse asked me even though our choice was written on my chart. This happened over and over before and after the birth. I was so angry I wanted to scream. Why do they keep asking? It made me begin to question our decision. Don't get me wrong, I'm glad we didn't, but geez, why weren't they listening?
 —Alice, Fort Myers, FL
Dear Alice:
Congratulations for having the strength to protect your son's right to his own body and withstanding the pressure of those who tried to coerced you to cut off the most sensitive part of his genitals. Circumcision is BIG business—a $2 billion-dollar-a-year industry for an unnecessary and harmful amputation, which is why doctors and nurses "sell" it so hard.
Doctors and nurses won't admit it, but they know that circumcision is excruciatingly painful and traumatic. That's why they do their genital cutting behind closed doors and prevent parents from hearing the screams or watching their babies suffer.
By keeping parents in the dark, health professionals can convince vulnerable and exhausted parents, right after their child is born, to circumcise their baby. If more parents knew what circumcision involves, they could stand strong and resist the pressure.
For example, a colleague and I videotaped a circumcision at the hospital where we worked. A childbirth educator showed the circumcision video to her class, and not one of the mothers circumcised their sons as a result. The educator showed it again to a second class of mothers. They didn't circumcise their babies either—except for one doctor who was taking the class. Even worse, the doctor insisted that our video be censored. That's how much doctors dread letting the truth slip out.
Fortunately, several anti-circumcision movies are available now that include actual circumcisions. I suggest watching The Circumcision Movie. Not only will you see that you and your husband were correct to protect your son, you'll also learn that you are not alone in denouncing this anachronistic blood ritual.
—Marilyn